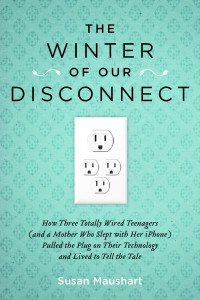 "The author narrates her story in a breezy, irreverent style, but beneath the humor is much wisdom about what our wired world does for us and to us… No Luddite diatribe, but an insightful tale of the digital dilemmas familiar to many families."
–Kirkus Reviews (starred review)
DESCRIPTION (from the publisher):
When Susan Maushart first announced her intention to pull the plug on her family's entire armory of electronic weaponry for six months-from the itsy-bitsiest iPod Shuffle to her son's seriously souped-up gaming PC-her three kids didn't blink an eye. Says Maushart: "Looking back, I can understand why. They didn't hear me."
For any parent who's ever IM-ed their child to the dinner table, this account of one family's self-imposed exile from the Information Age will leave you LOLing with recognition. But it will also make you think.
The Winter of Our Disconnect challenges readers to examine the toll that technology is taking on their own family connections, and to create a media ecology that instead encourages kids-and parents-to thrive. Indeed, as a self-confessed single mom who "slept with her iPhone," Maushart knew her family's exile from Cyburbia wasn't going to be any easier for her than for her three teenagers, ages fourteen, fifteen, and eighteen. Yet they all soon discovered that the rewards of becoming "unplugged" were more rich and varied than any cyber reality could ever be.
Available wherever books are sold on Jan 20, 2011. Learn more and/or preorder here: Amazon.com | Barnes & Noble.com | Borders.com | Or find the book online at your local independent bookstore via IndieBound
—————————————————————————————————————–
"Maushart offers a breezy style, vivid personal anecdotes and a funny take on female-male relationships."—Kirkus Reviews
What Women Want Next is a guide for the perplexed of both genders. Susan Maushart unsheathes her notorious wit and unerring sense of style on the knotty question of feminine fulfilment in a postfeminist world.
ANZ : Text Publishing
UK/USA : Bloomsbury
Italian : Baldini e Castoldi
Portuguese in Brazil : Editoria Melhoramentos